In case you missed it, here's a piece I wrote about two boys who met via social media, fell in love, got married and then joined forces to help raise money for a good cause.
Luke Austin and Marcus Paglialoga are so annoying on account of they're these super talented creative types who are young and good looking, they know it, they flaunt it, and they make no apologies about gratuitously losing their shirts (and their pants on occasion)–especially if their selfie will help raise money for their AIDS/LifeCycle campaign.  
The boys are part of Wolf Pack, a "group of ambitious young professionals, dedicated to raising funds and awareness for exceptional life-changing organizations through adventure." Being hot is not a prerequisite to join Wolf Pack, but hotness never hurt nobody, no how–especially when it comes to their common goal: ENDING HIV/AIDS.  
Click here to donate and check out their individual stories.  
Anyway, the Article "Mordern Love" came out in last month's issue of The Fight Magazine.
Check it out.
Luv,
Me
===
After a very public Instagram courtship and an intimate wedding in West Hollywood, Mr. and Mr. Austin-Paglialoga use their social media powers for a good cause""raising money for AIDS/LifeCycle.
BY PAULO MURILLO
THIS IS THE STORY  of how Luke Austin""a male fashion and portraiture photographer from Sydney, Australia, and Marcus Paglialoga""a fashion designer based in West Hollywood, fell in love, via social media.
They first met on Instagram""the picture and video sharing social media application where you're free to capture and share your most intimate images with the world.
They documented their courtship, using Instagram as a digital scrapbook, allowing themselves to be very public and vulnerable throughout their relationship""from the moment they met, to the times they've been apart, to their exchanges of wedding vows, to their date nights""it's all been posted for public consumption.
As a result, they captured the hearts and the imaginations of thousands of young men from around the world, who follow their romance and are inspired by their messages of hope for true love, and living out and proud as gay men. Of course, being a hot young couple and posting shirtless selfies doesn't hurt their following much either.
"Luke was planning a world photography tour which was set to start in Los Angeles," Marcus told THE FIGHT. "He intended on staying in LA with me for three weeks""that quickly turned into eight weeks -and us falling in love. He continued on his trip around North America and then hit Europe for two months. It was during this time away from each other that we realized how much we wanted to spend the rest of our lives together. Six months ago he returned to me, and one month later we were married in West Hollywood."
"People feel like they know us," reveals Luke.   "It's like a reality show. People come up to us on the street and just start chatting about stuff that they would only know from Instagram."
"We regularly receive fan mail, drawings of us, paintings, etc.   Neither of us ever expected any of this, but are both extremely proud to shine a positive light on the community and young gay men trying to cope with the difficulties that can come with coming out of the closet and finding themselves in our community," says Marcus.
To top it all off""these guys aren't just shirtless hotties who merely flaunt their half-naked torsos and their love for each other down our Instagram accounts; they also use their social media powers for a good cause.
In 2013 Marcus and his friend Levi Foster formed Wolfpack""a group of friends who team up to raise money for AIDS/LifeCycle-a nonprofit event that stages a 7-day bike ride from San Francisco to Los Angeles to raise money, bring awareness and provide services to people living with HIV/AIDS.
This year, Wolfpack has doubled in size and has gone bicoastal with Foster now living in New York.   They claim to have 160,000 Instagram followers combined.   They already surpassed their goal of $50,000 in a month and now have their bare chests aimed at raising $73K.
"We offer shoutouts and post events we're participating in and places where we'll be and this is just the beginning of our fundraising," Marcus reveals.
"This year, we'll be holding a New York City benefit and a West Hollywood benefit in addition to   hosting smaller events"¦   We hosted an event at Fautline the other day, which turned out to be really good.   We had a guy come bring us a $1,000 blank check for the cause.   We're going to utilize social media to push our funding as much as possible.   It's a group effort."
In addition to raising money for AIDS/LifeCycle, and posting photos on Instagram, Mr. and Mr. Austin-Paglialoga also have demanding careers.
Luke is in the midst of putting together a book of portraits called the "Beau Book" with 200 photos he took over the summer last year at 12 cities across the world.   The book is currently being pitched to several publishers.
Marcus is in the middle of showing his fall 2014 line for his label "Gypsie Junkies"""his women's clothing line.   The newlyweds have also been approached to do reality TV but the right project hasn't come along.
"I feel extremely lucky that I've been able to find love so easily""and that it's worked for us," says Luke. "I've always really wanted the husband, the dog and the baby."
"I'm such a home maker""it's not even funny," Marcus added. "I've always wanted the security and foundation of my own family and now we do have it and it's pretty rad."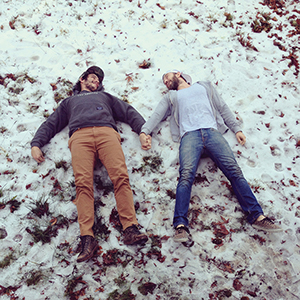 ---
AIDS/LifeCycle 2014 takes place June 1-7, 2014. For more information visit aidslifecycle.org.  
---
To donate to Marcus Austin-Paglialonga's AIDS/LifeCycle fund, visit: tofighthiv.org/goto/mpaglialonga.  
---
To donate to Luke Austin-Paglialonga's AIDS/LifeCycle fund, visit: tofighthiv.org/goto/lukeaustin.