ONE Archives Gallery & Museum is giving us a tiny taste of West Hollywood history, dating back to the late 70s, waaayyy before WeHo became its own city.
ONE has recently launched "EZTV: Video Transfer," an exhibit at their gallery located on 626 North Robertson Blvd at Melrose in West Hollywood, showing an exhibition and screening series exploring the history of EZTV, a pioneering video space founded in West Hollywood in 1979. Perhaps the country's first micro-cinema exclusively dedicated to video, EZTV was both a screening venue and production house. Through the exhibition, accompanying screenings, and public discussions, EZTV: Video Transfer looks to excavate how the space supported queer video, as well as more generally, its involvement with alternative video practices, performance, art, and community-building.
The Exhibit will run until June 1. Check out a full schedule of the different showings at one.usc.edu/eztv/.
—
I wrote a historical piece about EZTV back in August of last year for WEHOville.com. I mainly focused on EZTV's creation of the the vintage West Hollywood Sign that used to be on the parking lot next to the Ramada Inn, in the mid to late 80s.
I've written several articles about that sign, which served as a landmark for all things gay for me back when I was a kid.   Since the publication of these articles, people have reached out and sent me their personal photos of that sign.   Photographer Alan Light (above) used to vacation in WeHo in the 80s. The photo was taken in 1987, a year after the sign went up.
Below is the article, including this awesome photo of the sign back when it was inaugurated in 1986.
===
Throwback to the Vintage West Hollywood Sign
BY PAULO MURILLO
If you lived, played or passed through West Hollywood in the mid-80s to early 90s, it's likely you came across the long gone and mostly forgotten West Hollywood Sign "" a tongue-in-cheek, large-scale sculptural graffiti art installation that was a sendup to the original Hollywood symbol.
Located on a hill at the parking lot outside of what was then home to EZTV video center (where Collar and Leash now stands, next to the Ramada Plaza on Santa Monica Boulevard), the West Hollywood Sign was a city landmark that quickly became a tourist attraction.
Decades before there was a rainbow crosswalk on Santa Monica and San Vicente, the West Hollywood sign was a symbol of freedom and acceptance in the heart of WeHo "" not just for LGBT people, but also for Russian Jewish immigrants and crazy rock -"˜n'- rollers who turned to WeHo for a safe place to party. The sign also was used as a backdrop for candidates running for city office. The rotating mayor would pose for pictures and hold press conferences in front of the sign, which sealed it as part of the city.
Artist Micheal Masucci created the sign for EZTV as a salute to West Hollywood. EZTV was part of a new era in video entertainment and WeHo was the melting pot where change was happening. The sign was a monument to the newly established city and a send up to video art, pop music, film culture, fame.
Today, EZTV remains an avant-garde video production company and digital art center. It was founded in 1979 by video pioneer John Dorr and a team of independent writers, actors and technicians. Way before YouTube became what it is today, EZTV was creating video art and producing critically acclaimed video projects with little to no budget.
According to their website (eztvmedia.com), EZTV studio in WeHo was a large space that housed the first 100 seat video theatre, as well as one of the earliest digital art galleries in history.
"The very front part of the space was a public space," Masucci said. "There was a large screening room and art gallery. That space was used for lots of different things. ACT UP and Queer Nation would have meetings there and plan their activities. The front area was really part of the community."
The City of West Hollywood was only two -years old, making it the newest city in the country when the West Hollywood Sign was erected on April 15, 1986. Masucci spent $50 on cheap plywood to create the sign. EZTV had an unveiling ceremony that also celebrated the 30th anniversary of the invention of video tape. The unveiling was filmed as a performance art event, attracting an onslaught of onlookers as well as several news reporters.
"At the time we took it as a joke," Masucci said. "We thought, "˜Hollywood is the world capital of film, so West Hollywood is the world capital of video.' When we put the sign up, we did it without permission. We never asked the landowner, so we expected it to be up for five days and we would be court ordered to tear it down. But we quickly saw that it meant a lot more than we first imagined. What started out sort of as a joke, ended up staying up for five years instead of five days. It really became a symbol for a lot of people, for a community and for a cause. It celebrated diversity and liberation."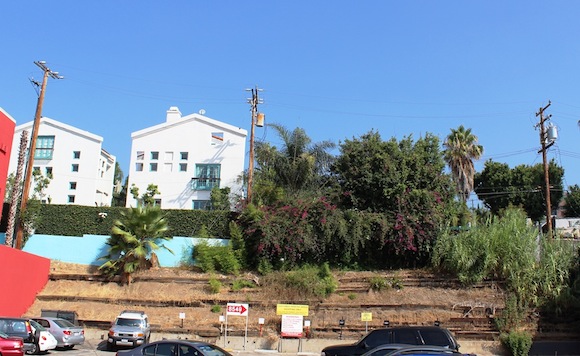 Video had long killed the radio star in 1986. Madonna was newly married to Sean Penn and sold millions of "True Blue" records. Janet Jackson released "Control," Prince was still with The Revolution and people who looked like Phil Collins and Billy Joel were music superstars. Parachute pants were the fashion rage, as were mesh shirts, acid washed jeans, fingerless gloves, shoulder pads, and oversized shirts in bright neon colors.
Fashion dysfunctions aside, it was also a dark time for a gay community that was losing thousands of young gay men to HIV/AIDS.
WeHo was hit hard by the pandemic.
"Most of the people passed fast." Masucci said. "Families were not that open to their sons being gay, so when a lot of people were diagnosed, their families abandoned them. There were many times when a young man passed and there was no place to do a short memorial service. EZTV had a small service for somebody, almost every weekend "" most people we never knew."
Masucci also recalls empowering times in WeHo in the early 80s.
"That tiny little piece of land called West Hollywood wasn't officially a city until the mid-80s. It was in legal limbo, so nobody was exactly sure who had to enforce the law, so it was easier to party for everybody." Masucci said. "It attracted many communities that I certainly had nothing to do with, but all kinds of people went to West Hollywood because it was a place they could be free. And that was something we were really, really aware of and we took great pride in it being our home. It meant a lot of things to us.
"I think the sign conveyed that here we were "" these tiny nobodies with no money who could stand proud and say we were where the real news was happening. This was the place where change was going to take place. Some people took it seriously. Understandably, most people didn't and we didn't take offense to that."
People loved the West Hollywood sign so much, some walked away with a letter or two as souvenirs, leaving Masucci with the task of restoring the sign. Images of the sign also started appearing in shady places.
"What a lot of people would do, which would piss us off, is that they would take some cheap shots of the Hollywood sign, cropping out the "˜West,' so we'd end up seeing it in a girlie magazine and shit like that." Masucci said. "We'd see some blond bimbo standing topless in front of the sign and it would just say "˜Hollywood.'"
Letters continued to go missing. Masucci stopped replacing them one day and the West Hollywood Sign slowly vanished in mid-1991.
It was the beginning of the end of an era. Dorr died of complications from AIDS in 1993 (Masucci assumed the role as director after his death) and a year later EZTV was unable to afford the space on Santa Monica Boulevard. It was forced to move to a smaller space on Hollywood Boulevard, before moving to its current location in the city of Santa Monica.
A year ago EZTV began the process of archiving its extensive collecting of video art. Masucci tells WEHOville that it plans to shut down EZTV after 30 years in the business within the next year. He hopes to preserve EZTV's history.
Part of that history is reminding people about the West Hollywood Sign.
"We never thought the sign was going to be embraced by so many different people, but for the most part, it has disappeared from memory. It's not even in people's collection of West Hollywood history, "Masucci said. "It's still interesting to see that it did have an impact beyond what even we were about."
===
Luv,
Me